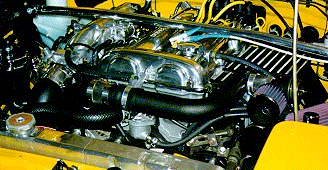 Bill Clifford's Turbocharged 1992
photo by Youens
The Car:
1.6 liter with 36K miles. Flyin' Miata Turbo system @ 12 psi. FM turbo exhaust, free flow cat, port/polished heads and valve job.
Comments by Shiv Pathak: Peak torque at 5500 rpm. Peak HP at 6800 rpm. Nice torque curve. Not at all peaky- like stock, just a lot more powerful. 125 ft-lbs @ 3000 rpm. 150 ft-lbs at 4000 rpm. 173 ft-lbs @ 5500 rpm. Further ECU tuning should reveal even more power.
Comments by Hemphill: Extraordinary car - shows how strong Flyin' Miata Turbo is right out of the box. Car was bolted together the night (actually the morning of the event) before the event. Nearly as strong as Bill Cardell's car - the "Original Flyn' Miata." Clifford has continued to tune the car and tells me that it much stronger than it was at its debut.


Dyno Results: Clifford and Pathak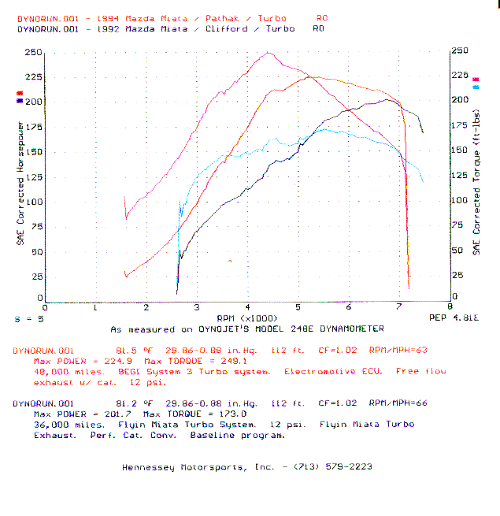 Return to page 1