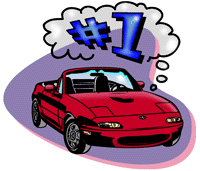 The Miata/MX5 of the Month from


---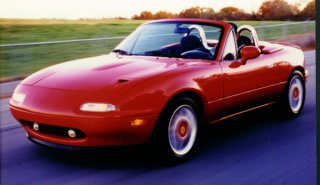 February 1997


Butch Brown
and
Miatago
Congratulations to Butch on the selection of Miatago as the first Miata of the Month!
---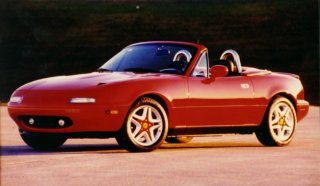 I first saw Sport Compact Car in the magazine rack at a local bookstore. I bought a copy and after reading through it, decided to subscribe. Along with a check, I sent a couple of photos of my Miata. I thought nothing more of it. About a month later, I received a call from Larry Saavedra, the editor. He said he was a Miata fan and would like to have more pictures. He set me up with a photographer and we met the end of November, 1995, for a photo shoot. The photographer, Reed Brown (no relation), took several pictures, both static and at speed. I filled out a release and a fill-in-the-blank questionnaire and that was it. I was a little disappointed when I didn't hear anything further from SCC. My March, 1996 issue came in the mail and when I opened it to the index to see what was featured in the magazine, I saw a small picture of my MIATAGO! I was pleasantly surprised to find a 4-page spread on my car. I later called Larry Saavedra to thank him for the article and he said that it was one of their best received articles. They had a ton of calls about the car and since they couldn't answer all the questions, could they pass my number on to those inquiring. I said OK, and was fortunate to be able to talk to many Miata enthusiast from all over.
Some particulars about my '91 Red B-package:
Engine mods include a Sebring Supercharger with a MSD boost control and timing set at 14 degrees. Plugs are Bosch platinum and plug wires are Racing Beat Ultra wires. It has a Rod Millen coated header dumping into the Candoo Performance cat-back exhaust, with a 3½" BroSpeed stainless tip. A VDO boost gauge is mounted in an A-pillar gauge pod. The valve cover was powder-coated black and letters filled in with red.
The car rides on 205/15 Dunlop SP 4000s mounted on 15" MOMO Ferrari wheels. It has Tokico Illumina shocks and Racing Beat sway bars. It also has Racing Beat front and rear suspension braces. It has drilled rotors, stainless brake lines, and Hawk pads.
The exterior includes front and rear air dams, and rear deck spoiler. It has a Racing Beat Style Bar II and Racing Beat hard boot cover. It has a Brainstorm low-profile headlight kit and NACA duct headlight cover. PIAA driving lights are mounted in front of a custom grill. Electric mirrors have been modified and installed. The display for the remote mounted Bell radar detector is mounted above a MOMO Corse leather steering wheel. A short shift kit with a Voodoo textured knob is installed.
Entertainment is by a Pioneer double-din AM/FM, tape, single disc, disc changer controller, equalizer, amplified radio with remote control. A Pioneer 6-disc changer is mounted in the trunk. Door speakers are Clearwaters, headrest are high-end Sony, and the door mounted tweeters are Pioneer. A Harada electric antenna pull in the radio stations.
Miscellaneous items include lots of Brainstorm stuff; window protector, boot pouch, between-the-seat pouch, trunk pouch, custom trunk carpet, trunk lid lift kit, and top rear glass kit. A Wiz hood lift helps keep the hood up. A Mighty Products lighted mirror is also installed.
That's the major mods to my car. I'm sure there are some other various and sundry items I've forgotten.
---