---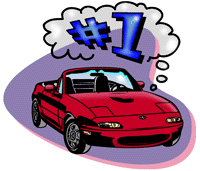 The Miata/MX5 of the Month
from


---
April 1997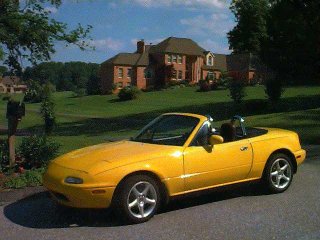 Robert Meushaw
Congratulations to Robert on the selection of his Yellow Miata as our April Miata of the Month!

---
What a disaster! My son's "previously owned" Corolla had just disintegrated. The rear axle broke one month after he had spent all of his savings on the car. It was a total loss, and I felt as bad as he did. So bad, in fact, that I tried to console him by giving him a long term loan of my old Camry. After all, I had been thinking about a new car anyway.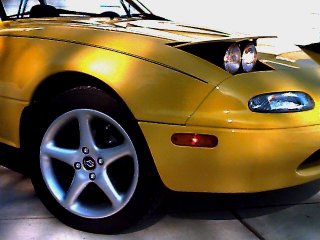 Now, I had the car problem - no car. I wanted a car with a bit more comfort and luxury than I had in the past, but I also wanted one that was sporty and fun to drive. After a lot of looking I was leaning toward a Nissan Maxima. Then, a friend of mine suggested a Miata. He had rented one in Australia and said that he hadn't had so much fun driving in a long time. I had never really seriously considered a Miata, but I had always wanted a sports car since I fell in love with the Sprite back in the 60's. After much soul searching I decided that the best way to meet my needs (and desires) was to get two cars. I could buy a new Camry for my everyday driving and a used Miata for a sporty toy. A test drive in a friend's Miata instantly reminded me of the fun I used to have driving my old go-kart\. Full speed ahead with the plan.
Red, white, or blue? That was the question I struggled with. I had always been attracted to classic red sports cars, but there so many red Miatas around that they didn't hold the same attraction they once did. I didn't really care for the blue model - so white became my first choice. For several months I searched used car ads in my local paper, but couldn't really find a low mileage car I wanted. Finally I found an ad for a garage kept, low mileage white Miata and called about it immediately. Bummer, the car was already sold! I was getting depressed. On a whim, I asked my neighbor if I could borrow his D.C. area paper. I found one ad for a low mileage Miata, but listing no other information. I immediately called and got a business recording with a message to call back during weekday hours. So early Monday I tried again and got a greeting from a credit union - now I was really confused. After a bit of confusing discussion with the operator I found a loan officer who told me about a repossessed Miata they were planning to auction. This was getting a bit weird, but intriguing. I got as much information as I could on the phone but still wanted to see the car before going further. It took almost two hours to get to where the car was stored. I didn't want to seem too anxious with the loan officer, but when I saw the car I had a hard time containing my excitement. It was a beautiful 1992 Sunburst Yellow. Actually I didn't know the name of the color at the time. In fact, I didn't even know that Sunburst Yellow existed. But I knew this was the car I wanted.
Okay, the car is beautiful; it looks like it has been well cared for even though it was repossessed; but what's the price? The loan officer was a bit cagey about what he wanted; he did say that he had refused an offer of $7000 from a car dealer. He also told me that he had another interested buyer and wanted to get rid of the car by the end of the week. Some quick "blue book" research suggested than the car was worth at least $12,000. I decided to take a chance with a slightly low offer of $11,000 contingent upon completion of a Mazda dealer inspection. "I'll get back to you," he said. I started having second thoughts - why didn't I bid higher to make sure that I would get the car; was he really bluffing about another bidder? One hour later I got a call and the car was mine. I felt like I had won the lottery.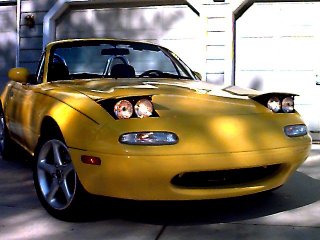 Now that I had my new toy there was a lot of learning to do. The Miata mailing list and Miata.net web site were invaluable resources for me as a novice. I learned that the reason I had never seen a Yellow was that they were so rare, with only about 1500 in the U.S. I got all my questions answered and was able to research all the wonderful goodies that were available. I really felt there were three major cosmetic changes needed - more stylish footwear (Freedom Design 15" rims with Dunlop SP8000 tires), a style bar (Racing Beat Style Bar II), and low profile headlights (Brainstorm). To make my country cruising more enjoyable I made a number of audio improvements - Clearwater door and headrest speakers, factory CD upgrade, Dynamat sound deadening in the doors, and the wonderful headrest amplifier fix by Jeff Anderson. There were a number of finishing touches including a K&N air filter, Miata Club shift knob, door sill covers, mud flaps, NGK plugs and wires, and the headlight wink mod. To top things off I even found a matching yellow color "Club" to keep it safe.
I'm very pleased about how well the car runs and looks. Wherever I go it attracts attention, and people often approach me with compliments and expressions of envy. Although the car is no longer "low mileage," it is totally pampered and only exposed to the finest top-down driving weather. With a bit of luck, what started as a disaster ended with me as a the proud owner of a rare Sunburst Yellow.
---
---
---