---

The Miata/MX5 of the Month from


---
June 1997
Ken Walker
Congratulations to Ken on the selection of his Crystal White Miata, "ICE CUBE", as our June Miata of the Month!

---
I bought this car because it looked fun. I had not even test driven a Miata before I knew that I wanted one. I hadn't even driven one before I ordered and purchased TIC-TAC, sight unseen. You see, I come from a long line of "Roadster People" and after having an E-Type Jag and a 66 MGB in my immediate family's generation, I knew I'd have to have a Miata before it was over.
What I had not anticipated was the amount of sheer joy and opportunity that lay before me the day they rolled her off of the loading truck... In so many ways, it seemed that one small thing after another would eventually snowball into enormous moments of fun and/or life changing experience. Who'd have thought these things would come out of a car? Here are just a few examples:
I canceled my vacation flight to California because I wanted to drive my "new Miata" instead. I threw a two-man collapsible tent in the trunk and drove from Houston Texas to Los Angeles and back. The car was so much fun to drive, I cut my California vacation short by several days in order to detour through the Arizona Meteor Crater, the Fort Davis Mountains, Hoover Dam, and the Grand Canyon!
I joined a local club in Houston (Miatamaniacs!) to possibly get help with or some discounts on parts and installations. Before long, I had made some friends that will be a part of my life for a long time to come; I learned to be a more effective driver through the turns, I learned (and taught) several installation and repair procedures that saved me lots of money, and I went on several road trips that taught me more about Texas and the surrounding area I lived in.
I joined a mailing list on the Internet to share what I'd learned in my club and to gain even more knowledge than I already had. Now I've added several more parts to car as a result of the Internet classifieds and I've met numerous friends that I personally correspond with on a daily basis. I've even met a few of them "face to face" and developed a very special and personal rapport with one in particular (Sorry Leigh, you may never be the same!).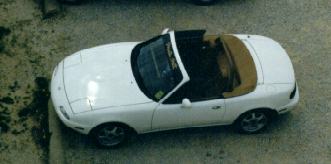 TIC-TAC and I have driven in parades, escorted dignitaries through ceremonies, and tossed Halloween candy to kids together through years past. When I moved to Minneapolis from Houston, I added the hard top, 4 steel wheels, 4 snow tires, and 12 coats of wax to TIC-TAC and changed her name to ICE-CUBE. She's handled the winter very well and I hope she's around for many more to come. I joined the Northstar chapter of MCA and hope to swap a lot of stories and lessons with a new and unique group of folks here.
Technically Speaking
ICE-CUBE is a '93-C Crystal White Miata with Torsion limited-slip and the MSSS stereo as original extras. This car is the only child I have, so I've spoiled it rotten. Here's a list of the items I've added since her purchase (I'm listing them here off the top of my head, I've kept a detailed list of all of the aftermarket purchases, along with their installation dates but its buried in my "important paper" box somewhere...).
Timing bumped to 14 degrees
Jackson Cold Air Induction
Jackson Racing Exhaust
Genie Performance Header
3-way Harmonic Air Horn
Brushed stainless steel door sills
Tonneau Cover (modified to Velcro-fit around the style bar)
Racing Beat Style Bar I
Clearwater door speakers
Trunk light (gotta have it)
Lighted Rear-view mirror
15" Fittipaldi 500S wheels (summer)
crappy old steel wheels (winter)
Dunlop D60 tires (summer)
Pirelli P190 tires (winter)
PIAA 1000 fog lights with OEM switch
Mouth Grill (painted tan to match the interior)
"Miata.Net" windshield banner
Voodoo Knob and Voodoo Grip
Shiny "horn bumps" to match the shift knob
Valentine 1 radar locator
"Behind the seat" boot storage pouch
Redline MTL in the tranny
Hella H4 headlights with the 90/135w bulbs (I like to melt the snow before it can stick to the car)
All four mud flaps
Hard Top
Padded arm rest
License plate frame that reads "Go Topless"
License tag, "ICE CUBE"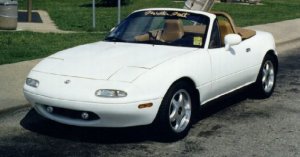 I would love to thank Gary Fischman and Keith Tanner for their work on the Miata.Net classifieds and the mailing list because without them, I could not have purchased my Voodoo knob and grip, my wheels, my Miata.Net banner, my tires, my Jackson Exhaust, my Genie Performance Header, or my boot pouch at such great prices. ICE-CUBE owes the Internet a huge debt of gratitude!
---
---
---