---

The MX-5 Miata of the Month from


---
December 1997
Susan A. Smith
Congratulations to Susan on the selection of her Miata, as our December
Miata of the Month!

---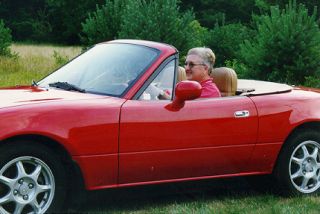 Well, I am now over 50, female, married, a New Englander - and WHAHOO - a very proud and happy owner of a Classic Red, tan top 1995 Miata roadster too! When the roadster urge started, I'm not sure - probably when I first got my license to drive. What I do know is that I've always loved to drive, really drive. No, that doesn't necessarily mean fast. It simply means I liked to be behind the wheel, see the pretty countryside and negotiate the road with all its challenges and curves.
In 1994 I was ready for a new car, and I did look at a Miata, even sat in one - gads it was pretty! It was spanking new, dark green with a tan top. I drooled and dreamed as I sat in the leather seats which made soft leather sound every time you moved. Then, all of a sudden I felt selfish and opened up the door. Questions flooded my mind like was there room enough for friends and groceries, etc? I swung my legs and got out of the car and left the dealership. Truth was I wasn't ready for a Miata.
What I wound up buying was a well-known Japanese sedan with some goodies in it. I sure tried to like it - didn't work. In 1 1/2 years I hated the car, because it was boring and took me away from the real down to the road experience of driving with it's automatic transmission, its never, never land feel to the steering, so quiet inside you felt guilty if you sneezed - and, oh yes, little annoying things started to go wrong.
Late summer, 1995. My husband quickly realized I was having an attitude problem when he caught me standing in front of the car and cursing (cussing!) at it aloud! What's worse, he agreed! Next day found us looking in the Yellow Pages for Mazda dealers over coffee at the breakfast table. I was ready to test drive a Miata.
A dealer nearby had one. They were showcasing it. The Miata was right out front sitting by itself: a shiny, classic red roadster convertible with a tan top. Stuff that dreams are made of. When I sat in its cockpit and was test driving, I fell in love with its mechanics too - the muffler's noise, the feel of the road, the absolute precision to the steering, the glove-like way it slipped into and around turns. Sold. I drove it home with its top down and smelled the sweet air of late summer. Welcome to Miata roadster driving.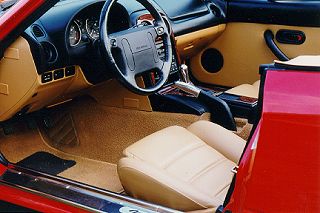 And 2 years later, I still am SOLD on it. I've never enjoyed driving so much! I even find myself giggling when I'm behind the wheel. No, I don't think I've lost it - I found a car that makes me absolutely happy to drive. I even get into washing it, polishing and waxing it - then usually get inside with a vacuum and Woolite the carpeting and do some detailing. The maintenance belongs to my husband - he faithfully checks out its vitals every Sunday morning and does the oil changes. As you can see, we're putting some goodies in it like that wood dash you see with the chrome shifter knob and brake handle. What you can't see is the wonderful air horn we installed - nice sound!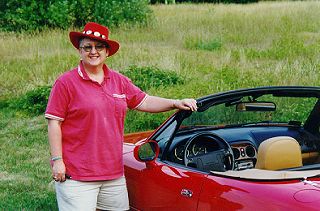 I'm not the only one who think she's pretty either. Last summer I was coming out of our local grocery store. It was a warm, balmy summer evening just before dusk. I had just washed and waxed the Miata and had the top down and took a spin to town to get a few groceries. When I came out of the store, two women were practically standing over my Miata. I suddenly had a horrible thought - the Miata had been hit! My heart was in my throat. I went up to the women, and they said, "We were wondering who owned this car - God, this has to be the perfect car." They were standing there admiring it! They asked me questions about it and how it drove. I knew how they felt: they were dreaming, like I had. I often say to folks if this is a 2nd childhood, I'm only sorry it didn't start sooner - my thanks, Miata!
Dedicated to my husband, Clayton, and to my Mom's memory, a truly wonderful lady who taught me how to drive and to "love" to drive - Dorothy B. Jones.
---
---
---