---

The MX-5 Miata of the Month from


---
January 1998
Jaime C. Villacorte
Congratulations to Jaime on the selection of his Miata, as our January
Miata of the Month!

---
It may sound like an overused cliche, but my Miata has literally changed my life. I've not only basked in the ownership and the driving pleasure that this amazing car can bestow on people, but with my '94 Laguna Blue, B-package, I met a fellow Miata owner, who quickly became my best friend, a valued driving co-pilot and most recently become the co-pilot in my life. But more on that a little later.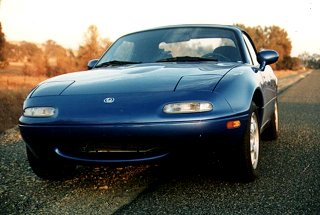 First, the beginning. I remember at the end of 1989 seeing the reviews in all the car magazines of this great little roadster. I managed to get a test drive of one of the first Miatas that arrived at Richmond Mazda in California, and in my short session with the car, a desire and lust to own the car had been firmly planted. But the logical side of my mind had quickly talked me out of buying the car that year, citing it was just "unpractical" for me. Instead I purchased a new 1990 Integra hatchback (hey...I could fit a whole bike in the trunk!) but still kept my aging Honda Civic as my daily driver. But I vowed that after I paid off the Integra, I'd sell the Civic and buy my Miata.
Well, after four long years, the wait was over. Labor Day, 1994 was a few weeks after I made my last payment on my Integra, and the day after I had sold my Civic. It was that day when I walked into Browning Mazda in Cerritos and walked out with the keys to a brand new Laguna Blue car.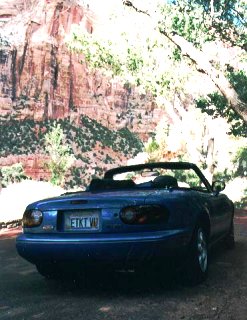 Like all Miata owners, I basked in the giddy fun that driving the car gave me. Short errand trips began turning into long extended drives with the car. Driving the picturesque Highway 1 from the San Francisco Bay Area to Los Angeles was like a religious experience for me. And hand washing the car on my driveway in the weekends was a Zen-like bonding, with soap-soaked hands tracing in admiration the simple and sensual lines of the car.
In the months prior to the purchase of the car, I had discovered the Miata mailing list. It was a truly wonderful resource, full of helpful and friendly people, providing a wealth of knowledge and information on the car. The Miata list helped me reaffirm my purchase of the car because I knew if I had any questions or problems with my car, I could rely on an entire community of Miata owners from around the world to help me.
Because I wanted to give something back to the Miata list, I first began to maintain the Miata License Plate list ( http://www.wenet.net/~jaimev/plates.html ). This was simply a list of personalized license plates of Miatas around the world. I had one on my car (ETKT VU..."E-ticket view") and so did dozens of others, and it seemed like a good idea to keep track of them.
Later, I progressed to putting together the Miata Features List...basically it's like a genealogy chart of the Miata. A table that lists all the features present on each package of each model year of Miatas made for the US. It seemed to me that it was important to know things about the car, like which year certain colors were offered, or what options were available on the different packages (A, B, C, M, Touring, etc.).
Like with all other Miatas, my car slowly began getting more personalized and started acquiring its share of add-ons. Over the years, I've installed a Clifford 800-IQ car alarm, replaced the OEM radio with a Sony head unit with a 10 CD changer in the back. I upgraded the door speakers to Polk component speakers, and fitted a 50 watt Precision Power amplifier in the on top of the spare tire. Crazy Red horns added a great new voice to the car, with Kaleva horn button bumps making it easier to make the car speak. Jackson Racing front and rear sway bars and Bill Cardell's Dealer Alternative strut tower brace enhanced the car's handling. I added a Da'Lan trailer hitch in order to use a Rhode Gear bike rack to carry my bikes. Neoprene seat-covers from Wet Okole to add some color to the interior. And with each upgrade, I tried to add to the growing depth of Miata knowledge out on the world wide web, by documenting the upgrades on my Miata web page ( http://www.wenet.net/~jaimev/miata.html )
As I said in the beginning, this car has literally changed my life, and it began with a chance encounter with a fellow Miata owner who owned a Black/Tan '92 special edition. I met Jeanne Pandes on a Miata fun run around the Palos Verdes area in the South Bay area of Los Angeles. One thing led to another, and pretty soon we began going on fun-runs for 2, playing follow-the-leader with our cars over the twisty roads of Southern California. It was very common for us to attend local driving events with both our cars because our passion for driving was so great. Occasionally we'd temporarily give up the driver's seat, leave one Miata in the garage, and become the co-pilot for the other.
Back in September, 1996, we took a 1 month, 8500 mile cross country vacation around the country, starting from Los Angeles and proceeding clockwise around the country (http://www.earthlink.net/~jppandes/M-crosscountry , or Jeanne's article in the Miata Club of America magazine, 1997, Issue III)
A co-worker warned me before our long trip that being in a 2-seater convertible for that long would have one of two results. The first was that the 2 people would end up never talking to each other afterwards, because of the conflicts that would arise in such cramped quarters. The second result, was what happily happened to us: we became the best of friends and the best of co-pilots. We were engaged shortly afterwards, and just a few weeks ago, on November 8, 1997 we became husband and wife.
Yes, this car has literally changed my life. Not only is Jeanne's Miata now sharing the same garage as my own car, but I ended up marrying a wonderful person who'll be my co-pilot in life.

---
---
---