---

The MX-5 Miata of the Month from


---
July 1998
Thierry Sicart
Paris, France
Congratulations to Thierry on the selection of his Miata, as our July
Miata of the Month!
---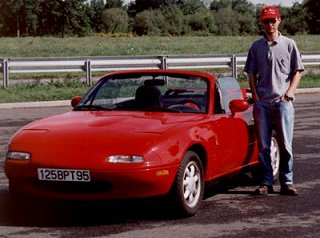 Hi from France !
Let me introduce myself, I'm Thierry from France and the proud owner of a red Miata (also known as MX-5 over here) since 1995. I live near Paris and am a member of the MX-5 Club of France.
First, I'd like to congratulate Miata.net for the quality of the site. It's interesting and made me aware of the extraordinary following Miata has had for more than 8 years in the States. I want to take a moment to let you know that in France as well, albeit to a lesser extent, she's done great and that we expect at least as much success for the new model.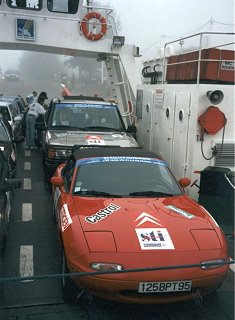 As for me, as this is the place to write of one's experience with one's Miata, I'll start at the beginning. As soon as she was for sale in France, in early 1990, and although I was still a student, I dreamed she would be my first car. Once I was through with my studies in computer science, I didn't wait for long to make that dream come to life. I bought her in November 1995. She'd known two previous owners and run 23,000 miles since coming to France back in July 1992. She's a standard French model, that is to say with: powered steering, electric powered windows and alloy wheels. To this you can add a black hard top and chromed luggage carrier for my girl friend's case, because the "Gigantic boot" just can't hold her "few things"… That should ring a bell! I don't plan to customize her (the car of course!) because I like her best in her standard trim!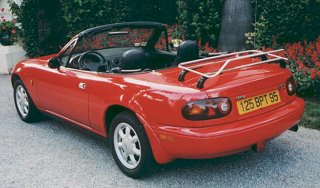 From the first mile covered to this day, it's been an everlasting pleasure to drive her. To do long drives in the mountains, along the sea front or in the country side. The three of us have done 21,000 miles since we're together. Going through the Alps mountains on the high passes road going through Evian (near Geneva in Switzerland) to Cannes (on the French Riviera) or touring in the woods of the Haut Var (above Saint Tropez, on the French Riviera) or in Normandy (near Deauville).
What's more, she attracts friendship. It's one of her more pleasurable side effect. From children because of her winking headlights but also from grown ups, because she looks like a toy. Also, as she doesn't let you down on the side of the road, she's really tops!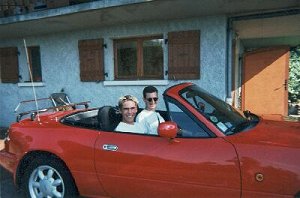 And then one rainy day in February, I met with the MX-5 Club of France. This Club, recently created in France by a few fans (Stephan and Isabelle Maniette) allows us to organise meetings, to drive and talk about, guess what…Miatas!
I took part in an outing with the Club in May '97. We left from the Avenue des Champs Elysees in Paris and went to the country side in Brittany (western part of France). It was difficult not to lose any of the 18 cars that went and we all got together midday for a good meal. After a well deserved rest, we went to Loheac, a typical small town. Loheac in Brittany is the Village of the Car, it has a car museum, a car factory and a racing circuit. We went to the museum. It displays lots of old bangers (really ancient) and modern sports car (Ferraris). Then we went for a few laps of really fast driving around the circuit, though without any risks. I really enjoyed pushing the Miata to its limits. Even in its stock guise, one feels safe because it is so neutral and amusing to drive on dry roads. In brief, it's very nice to meet other fans, to exchange and compare our different opinions on the Miata. It also gives the opportunity to admire some beautiful customising done by some of the Club's members. To sum it up, when we disband we believe there is but one car in the world, Miata !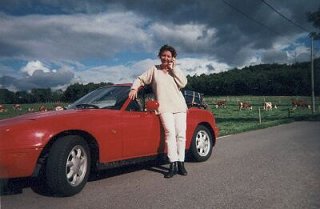 In September 97, I also went to a touristic rally from Paris to Deauville. Thanks to the Club, we were able to see what is coming next, Miata's next year model. An outing with the Club took place on the 4 and 5th of April '98 in the south east of France. In May '98, we had the pleasure to receive in Paris an Big International Gathering of Miatas organised by a fan from Belgium.
For now, my girl friend and I are planning long drives in this wonderful car. The best I can do is wish you all in the world a very nice time with your Miata! And keep the wheels going!

---
---
---