---

The MX-5 Miata of the Month from


---
August 1998
David Levin
Peabody, Massachusetts
Congratulations to David on the selection of his Miata, as our August
Miata of the Month!
---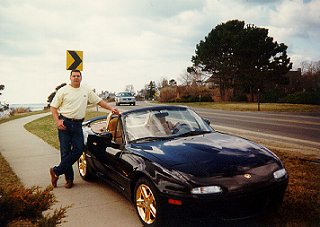 Let me start a long time ago, it was the summer of 1981, I had just finished a four year hitch in the United States Marine Corps, and had just returned from the Island of Okinawa. It was the last day of August and I returned to the states via Camp Pendleton located in the heart of Calif. There were cars of all kinds, everywhere you look there were sports cars, low riders,customs, and exotics. But the one car that struck my fancy was a 1975 MGB roadster, Black in color with a tan interior. The car was at a stop light in the city of Oceanside, about 25 miles from L.A. I walked over to the car and asked the owner if she wanted to sell the car. She replied "are you serious? It's a mess." I replied "I think it's a work of art." She than smiled and said that she would part with the car for a mere $2,500. I asked her if she would give me her number and that I had to go the base in order so that I could withdraw the money from the credit union. She said that she would do better than that, that she would drive me to the credit union. (I didn't know at the time if that was a blessing or a curse.)
After we arrived at the credit union and the monies were withdrawn, the sale went smooth. In about 15 minutes I was the proud owner of a 1975 MGB Roadster. After getting the car on the road legally it was off to the PCH. (Pacific Coast Highway) Oh what a time I had, nothing but the sun and wind in my face, it was like this is what I fought for, the Freedom to be Free, to do what you wanted when you wanted. After about 3 weeks it was time to head back home to Massachusetts, 3000 miles away. Then it hit me: Should I trailer the car or should I drive it across country? The decision wasn't easy but I decided to drive.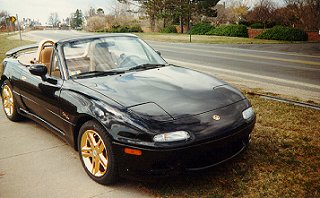 What a mistake! The car broke down several times along the way, until the final time it broke down and the mechanic said I needed a new engine. I was faced with a serious decision. Should I fix it again or sell it and fly the rest of the way home. Well I decided that after the mechanic said it would be $1,500 to fix it, to sell it. I sold it to the very same mechanic for the sum of $2,000, not bad $500 plus extra's along the way and the fun of driving a great car across America.
So you're probably asking how is this related to the Miata.........I'm getting there. After finally getting to Massachusetts and saying hello to everyone, it was back to work I went. Several jobs and several major industrial accidents. First it was my left eye. I lost sight for 6 months and the doctors didn't know if I'd see again, but I've regained about 90% of my sight after a lot of physical rehab. Second came my left hand- crush between the wall and a 8000 lb. forklift. Again, after several operations, they said I'd lose the use of my left hand (by the way, I'm a lefty.) I proved them wrong again and worked through the pain and got back about 77% usage. Through this time I had been stashing away dollar upon dollar to finally be inspired to by another sports car, though I didn't know which one or even if I could afford it when the time came. But I was determined to have another sports car.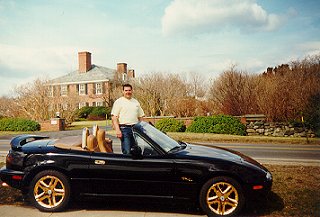 Then in 1992 the world came apart, I was at work giving my 110% as normal, and I turned and picked up a box weighing only 50lbs and I fell to the ground, letting out an ungodly yell in pain. I couldn't feel anything below my waist, everything I worked for was gone. My life was over. What do I do now? They rushed me to the hospital and performed emergency surgery to remove the exploded disks in my lower back. The outcome was unknown, but the operation was a must. Again, after many, many months of rehab, (and I'm still in rehab today), after facing suicide several times, I decided that being a Marine taught me to never give up - that everything, if you work hard enough, can be worked through. So I decided once again to do the rehab at a 110% and give it hell.
Well, during the years I got married to a lovely woman named Donna, my rock and soul mate, and had two beautiful daughters named Lacey & Blayne. I couldn't turn my back on them and leave them without a father. Month after month with no improvement, I kept on. Finally I began to do better, feeling came back and I was up and walking around. It was an unbelievable feeling that is not explainable. But my life was returning to me. I could once again begin to enjoy the feeling of being alive. Sure, things have changed, but that's the beauty of it. Things changed, but it gave me a new outlook on life.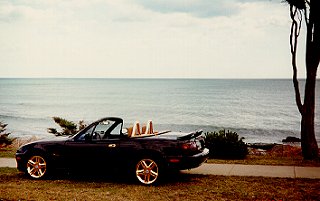 Then in 1997 while I was driving down the coast I spotted the ultimate Roadster. There she sat on her high perch, a beautiful Black with Tan leather Mazda Miata. Like the MGB, I knew that I had to posess her. My wife was concerned that because it was a standard shift that I would not be able to enjoy the car. I told her that I would continue to work through the pain, but I had to have that car.It was like it was drawing me to it, like nothing else ever did in my life, even more than the MGB. The next day I went back to the dealership and bought the car. The first drive was down the coast with the top down, and I was living again. My wife say's that that my life and attitude has change unbelievably for the positive since I bought the car. When ever I take a drive in the car the pain seems to just fade away. Oh, what a perfect Roadster!!! I have already purchased a full body aero kit, new Dunlop D40M2 tires, Momo wheels, and dual roll bar. All of these parts have been plated in 24k gold. Everybody stops me to compliment me on the car, but I just say thank you and tell them to thank Mazda for not only a fantastic car but for giving me back my life.
I would like to say one more time:
Thank you all at Mazda for a second chance, and keep up the great work!!!!!
---
---
---