---

The MX-5 Miata of the Month from


---
July 1999
Keith and Westy Evans
Gulf Coast, Mississippi
Congratulations to Keith and Westy on the selection of their Miatas, as our July
Miatas of the Month!

---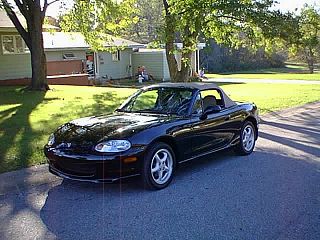 My wife and I can truly be called Miata nuts. It began late in 1992. We just got married in May and about November we decided to buy our first car together. She (of course) was interested in the MR2, but I said let's drive the Miata. After one test drive, we were going home with it as soon as humanly possible. Of course, our anxiousness allowed us to be taken advantage of pretty bad at the dealership, but we were happy. After only about 2 weeks, in a dark parking lot, our 92 Red B Package took a hit directly in the drivers side door from a vehicle backing out. One new door and paint job later, we were back on the road just as happy as ever.
After about a year or so, the MR2 lover slowly pushed me out of the Miata and "our" car became "my" car. I found myself getting less and less driving time. We changed address to the Gulf Coast in Mississippi in 1994 and was told to go get my own car. I was finally thrown out of the car for good. Feeling rejected, I shopped around for a car that I thought would bring back that same spirit that the Miata gave me. I eventually ended up with a loaded 95 Camaro straight out of the factory. Being delivered the day after Christmas, this was bound to be more than enough to satisfy me for years to come.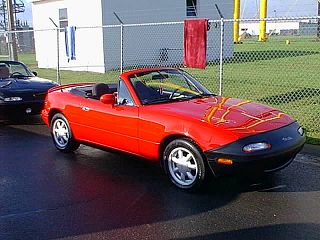 The next change of address in spring of 1995 brought us to central Missouri which is where we live now. This was our first experience with a local Miata chapter. We got in touch with the Kansas City club and began attending events. The spirit that I thought I was over began to resurface. We took turns (sometimes) driving in different events and I fell in love all over again. Don't get me wrong, I loved the Chevy, but it just wasn't "fun". Numerous scrapes, scratches, and deer attacks (new front end and pop up headlight) later, we were still both just in love with the car as ever. All of our coworkers think that we are crazy being in love with a car. They just dont understand. Every time that we talk about club events or what our newest add-on is, we seem to draw a few chuckles.
Then, one weekend on an event down the Lake of the Ozarks, we came across a 99 Miata staying at the same hotel as us. It began jokingly, we would go back home and try one out on a test drive.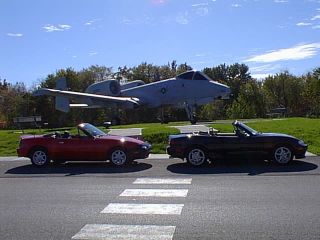 The very next weekend, there we were, after the test drive, with that look that can only mean one thing, "we have to have one of these!" Having no children or large pets and no major debts, we just couldn't find a reason to say no. Suddenly, my Chevy wasn't quite so awesome. By the second day of the weekend, I was signing papers on my 99 Black Leather Package with the Appearance Package, with the expressed guarantee from my wife that this was mine this time. After all, she was still in love with the Red 92, even if all of the paint didn't match.
Well, I guess we have made some serious decisions. With two Miatas in the driveway, we are destined not to have any children in the near future and we are destined to go grocery shopping at much more frequent intervals. I cant wait till winter rolls around to see how we do. The one thing that I do know, is that there are two very happy motorists in this household. The only problem now, is who's Miata to take to ralleys. No problem, take them both, we have CB's. :)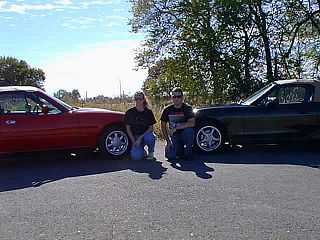 ---
---
---