---

The MX-5 Miata of the Month from


---
October 1999
Otto Joe
Congratulations to Otto on the selection of his Miata, as our October
Miata of the Month!

---
When I first saw the Miata in 1989 I hated it. It was cutesy and a convertible and worst of all slow. I couldn't believe people were plunking down so much money for a stupid little roadster when they could spend just as much and get a RX7. Back then I was a huge fan of the CRX and MR2. I didn't get the idea of sportscars.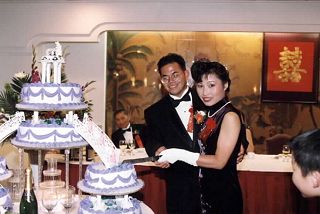 Fast forward a couple of years. I go on a trip to San Diego with my wife(then girl friend) and decide that since I was renting a car I should try out a convertible. We ended up with a LeBaron. It was really cool not having a roof. The only problem was that the car was a boat and the car chassis creaked and flexed.
I go to the SF car show in Nov of 1994. I of course have to sit in all the cars and check them out. I come across the Miata and decide to try it out. It seems like the car fits me perfectly and the shifter feels awesome. I start to think that this would really be a fun little car.
In Dec 1995, I'm in the grocery store and I see a new mag called Sport Compact Car. I look inside and see a GReddy turbo'ed Miata. It takes my breath away. I begin surfing on the net and discover the Miata.net. I soon realize that there are many people on the net with turbos and superchargers and the aftermarket components are nicely priced.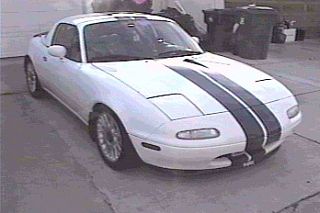 In Oct 1996, I decide I need a sports car and possible a project car. My faithful 1990 Integra has over 130,000miles on it. I went a searched the net for info on the MR2, Miata, DSM, 300Z, and RX7. I went around test driving all sorts of cars. I drove an 80's 911 which was just gorgeous, but not that fun to drive. I drove a 93 300Z which made me feel like I was in a coffin and handling didn't feel that great. I drove a 95 RX7 and loved it, but it was way out of my price range. I drove a couple of Miatas and found that even if I wasn't successful making it fast, it would still make a nice convertible. I then drove the MR2 and loved it. I really wanted a MR2.
For the next few months I went an looked for a nice low mileage MR2 turbo and eventually found one with 30k, but unfortunately someone else was able to purchase the car before me. I was totally bummed and decided I would get a Miata and turbo it right off the bat since Miatas were cheaper and easier to find. I figured I could get supercar performance on a budget of $15k. Boy was I wrong.
In Dec of 1996 I found a deal I couldn't believe. I found a white 1990A with a really clean body and only 62,000miles for $7,600. I had myself a nice Christmas gift. Eventhough the weather was cold I was a running around topless enjoying the freedom of a convertible. The only thing that killed me was that the car was so slow so my new years resolution is to turbo this sucker.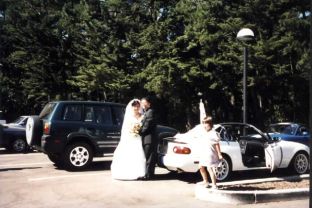 1997 went at a furious pace. I shopped for a turbo and decided to go with the GReddy since it could be purchased through a local vendor, MRoadster. I ordered the turbo in early Feb and Percy promptly drove it over in April. I was disappointed that the turbo was missing an oil fitting, but I improvised and was on my way. I then ended up buying pretty much everything MRoadster sold and what wasn't stock by Percy, I ended up going to other Miata vendors.
Trials and tribulations I have dealt with are: The infamous Manifold cracking and the horrible customer service of GReddy and waiting 49days for a new one. My Spearco intercooler getting stuck in the UPS strike and then when I install it the car overheats so I need to get a Modine radiator. Getting the GReddy to run properly and then have my clutch have to be replaced with a CFDF and then blowing the diff and then upgrading with a Torsen and then having the CFDF slip.
On August 8th, 1998 I got married and made sure my Miata(FUGU) was there in all its glory. I then decided that after a furious build up it might be nice to tone down the Miata so took the stripes off. I then decided to start maybe bringing the car into a shop to do maintenance rather than do all the work myself since the wife hated all the time I spent in the garage, big mistake. All the mechanics I brought the car to do things like the clutch and alignment gave me hell. I was promptly shown the door with some shops. I was so fed up that I decided to convert my car to a somewhat stock and just get rid of it, but after a little cooling down I removed the turbo and have been enjoying it for what it is.
The past three years(two with the Miata and one without) have really been a journey for me. I have gone from naive to pessimistic. Although the Miata may not have been headache free, dealing with Miata.net vendors and Miata.net folk is like nothing I've ever experience before. The Miata.net is a group of people that put driving pleasure and love for cars above anything else. When I look at the rest of the world, they just don't get it.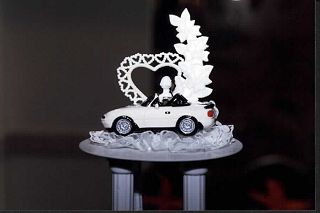 PERFORMANCE

GReddy Turbo
Spearco intercooler
Bosch BOV
DynoMax Cat Back
K&N Filtercharger
Center Force DF Clutch
Link ECU
GReddy Profec
RC Injectors
Jackson High Flow Cat
Custom Air Intake

SUSPENSION

15X7 Moda Sports
Racing Beat Springs
Racing Beat Sways
Koni Adjustable Shocks
Brainstorm Lower Braces
PZero 205-50-15 Tires
Torsen Differential
Rear tower brace

APPEARANCE

MRoadster Stripes
Mazda Front Lip
Mazda Rear Spoiler
Mazda Mudflaps
Mazda Hardtop
Razo Shift Knob
Niken Pedal Covers
Leather Shift Boot
Leather Brake Boot
Vodoo Machined Brake Lever
Brainstorm Window Protector
Robbins Sunfast Top
Sill Protectors
94+ RPM Gauge Face

SAFETY

Harddog 4pt Rollbar
Pliot 800 Fog Lights
Kiddie Fire Extinguisher
94+ Brakes
Airhorns
Hella Lights
SS brake lines
Autometer Boost Gauge

ELECTRONICS

Placer 455 GPS
JVC CD Player
Morel Tweeters 1"
Scan Speak Mids 7"
US Acoustics Amp 4X50
GReddy Turbo Timer
Proximity Sensors
Vifa Subs
Cyberdyne A/F meter
---
---
---