The MX-5 Miata of the Month from


---
January 1999
Kurt Summers
Dallas, Texas
Congratulations to Kurt on the selection of his Miata, as our January
Miata of the Month!

---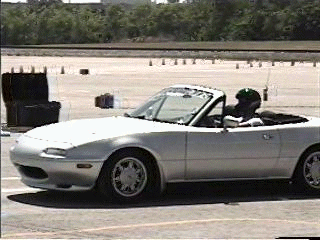 One thing that I have learned since I acquired "Da Funk" in late 1993 is that the Miata brotherhood is made up of some very interesting people, all with a unique story to tell.
Well, my story in late 1989 when the sporty little two-seater was first introduced. I had just turned 13. Yeah I know, starting pretty young. But I had been around some very fine roadsters since I was a kid, and it also helped
that my dad used to own and race a laundry list of cars including an MG-A and several Alfa Romeo coupes and spyders. However, his last spyder was sold before I was old enough to drive so I began mowing lawns in order to build a "Miata fund". I hadn't started out thinking that I would buy a new Miata because I just didn't have the earning power to achieve that during my early teens. But I did know that the little Japanese roadster was reasonably priced, and I figured that I could have enough money to buy a decent used Miata shortly after I would turn 16.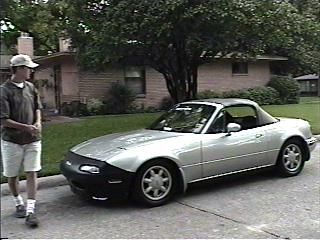 The means-to-an-end mowing hobby actually ended up turning into a full-fledged business maxing out at about 80 regular customers. Needless to say, hundreds upon hundreds of lawns and $9,100 later, I bought and rescued the first love of my life in the fall of 1993: my '91 Silverstone Silver Miata.
Since then, "Da Funk" has taken me on many road trips, camping trips, and club outings, been in several large and not-so-large parades, moved me and my junk to and from college again and again, and clocked almost 100 thousand miles on some of the best roads in Texas and the Southwest with more fun and excitement than most people can imagine. A recent addition to the constantly expanding Tejas Miata Club in Austin, Texas I encourage all those who have yet to contact a local chapter of the Miata Club to do so and participate in the activities. They can be loads of fun and the people you meet in your area will likely become some of your better friends.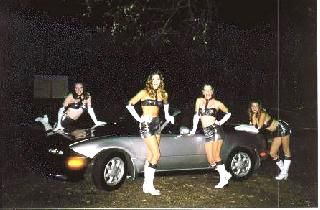 I am now 21 and a senior marketing major at the University of Texas at Austin, and the extra cash I earn when I am not attending school mostly goes toward buying aftermarket goodies for my car.
The current list of mods to "Da Funk" include (but is not limited to):
Jackson Racing CAI
Jackson Racing tuned header
Walker-Dynomax Super Turbo muffler w/4" Brospeed tip
GAB Superstroke 8-way adjustable shocks
Flyin' Miata progressive springs
Centerforce clutch
Chromed cam cover
Polished Voodoo shift knob and brake handle
Clearwater speakers
Mazda air dam, rear skirt, and mud flaps
As most of us well know, our cars are a continuous project...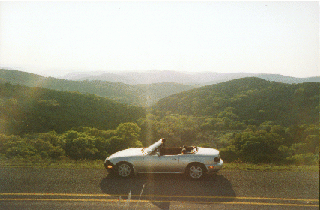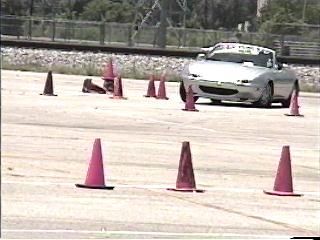 Kudos must go to the guys at Miata.net for maintaining what must be the best special interest automotive site on the World Wide Web. Lord knows, without it and the Miata.net e-mail list server I would be a lost soul.
---
---
---