---

The MX-5 Miata of the Month from


---
April 2000
Jack Gosney
Riverside, CA
Congratulations to Jack on the selection of his Miata, as our April
Miata of the Month!

---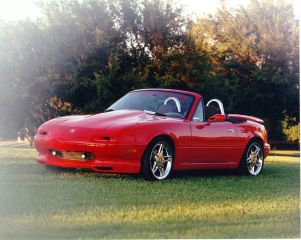 Creating a truly unique automotive experience can be exasperating! Jack Gosney's 1997 Miata is a case in point. After two years of accessorizing, Jack had a fast, reliable show winner. But at a certain point, the car was finished and there was nothing left to do to provide the excitement of something new.
Then Andy Cork of Brain Storm Products approached Jack with the idea of converting his highly modified Miata to an Italia - the new and distinctive body restyling kit by Simpson Design & Development. Inspired by the 1967 275 GTS-4 "NART" Spyder, the kit appealed strongly to Jack's desire for something entirely different.
The installation is fairly straightforward. The front clip is an entire fiberglass bolt-on replacement, the original doors remain and the rear section is an overlay utilizing the original trunk lid. The professional team of Daryl Doskocil and Richard Cook of Fritts Ford in Riverside, CA took on the project. An outstanding body man, Daryl brought his meticulous attention to fit and finish to the installation. With Richard's stunning paintwork, the result is awesome.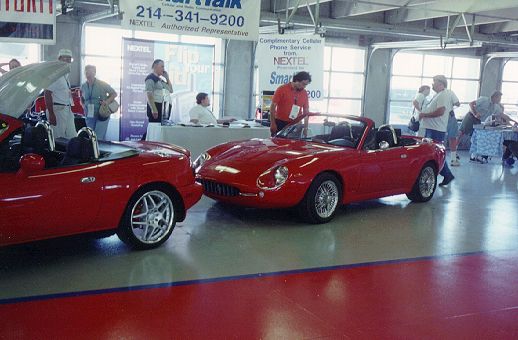 In an attempt to make the "retro" look as complete as possible, Jack had a grille fabricated to exact Ferrari dimensions. He then added bolt-on spline adapters and authentic 15" Dayton wire wheels and knock-offs with Toyo 205 x 50 Proxes. The interior is black leather, including custom door panels, highlighted with wood an chrome accents. A totally retro shift boot by Simpson and a Nardi replica of the original 1960's steering wheel complete the outstanding interior.
The car retains all of the performance and suspension modifications that were on the original, including a Jackson Racing supercharger and big boost kit producing just short of 200 horsepower at the rear wheels. Jackson Racing headers, Jackson performance clutch, light flywheel and a Torsen limited slip differential complete the drive train. Other modifications include Brembo cross-drilled rotors, Jackson sway bars, and Mazdaspeed Koni/Eibach coil-overs.
The car is every bit an outstanding example of what can be done to individualize your automobile.
On its completion in early May of '99, Jack took the car to the national Miata meet in Dallas, Texas. Jack's excursion to Texas with a group of his buddies included an unanticipated dust storm that covered 400 miles of the trip. In spite of this, the car took top honors at the Zymol-sponsored car show during the Meet.
Jack's Italia is destined for many more showings, including SEMA in Las Vegas and even the Pebble Beach Concours where the car would be entered as a non-competing display vehicle. Keep an eye out for it- it's one you don't want to miss.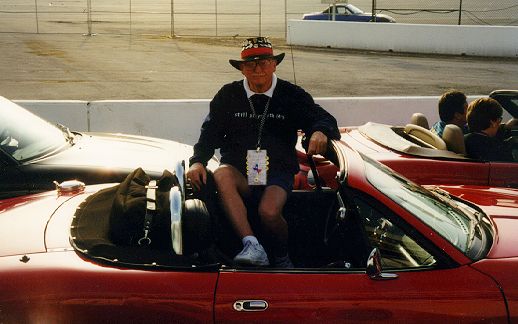 ---
---
---