---

The MX-5 Miatas of the Month from


---
April 2001
Rosemary L. DeHoog
STARLIGHTMIATA@aol.com

Congratulations to Rosemary on the selection of her Miata as our April
Miata of the Month!

---
I own a 1996 Starlight M Edition. In May of 1997, I drove from Syracuse , New York to pick up my Mother at her nursing home in Muskegon, Michigan. She was 89 years old. She loved to ride in a car so we were going to California on Route 66! We were running out of money and before she joined the saints, I was determined that she should see the Grand Canyon, visit her daughter again in Pacific Grove, California, see her grand daughter and great-granddaughter in Port Townsend, Washington, see Old Faithful in Yellowstone, and go to Mount Rushmore. What better a car to ride in than a Miata!
Knowing this would be a 7000 mile round trip, I carried extra rubber, continental style, on the luggage rack of the Miata. Rayco in Syracuse, N.Y., made a cover for the tire which matched the tan top and boot perfectly.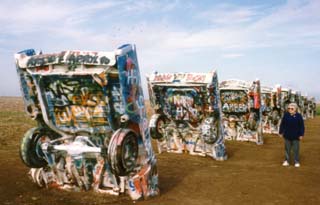 My Mother had suffered a series of small strokes which had left her not able to take care of herself. Somehow I knew that we could do this. We left Muskegon, Michigan on May 19, 1997 headed for Chicago and the beginning of Route 66. Then came St. Louis to see the Gateway Arch and Ted Drewes Frozen Custard. Then we were on to Tulsa, Amarillo and the Cadillac Ranch, Albuquerque, and then Williams, Az., where we took the old steam train to the Grand Canyon, viewing the Canyon from the southern rim. We drove across the Mojave to Barstow, California, then on to Santa Monica and the end of Route 66. But what a run! From Albuquerque on the top was down and sometimes the air-conditioning was on ,too.
We got on the Pacific Coast Highway at Malibu and oohed and aahed at every turn of that magnificent road stopping to take pictures only to find a more beautiful scene around the next bend. We stopped on the Monterey Peninsula to see my sister then continued up the Pacific Coast Highway to Crescent City, Ca., Lincoln City, Or., and finally to Port Townsend, Wa. where we spent 4 days resting before the return. My granddaughter loved the Miata but with dual airbags and no cutoff switch, (no dealer or after market shop would install it) her time in it was limited.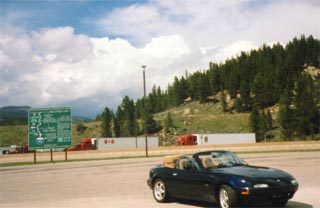 On the return trip we picked up I-90 in Seattle and as the sign said "Begin 90" and I live in New York along the New York Thruway which is also I 90, I was indeed struck by the vastness of this country. Our next stop was Old Faithful in Yellowstone National Park. Not only did we see Old Faithful but we had lunch on June 10th with 60o temperatures and 6 inches of snow under our feet! Mount Rushmore was our next destination and what a tribute to our presidents. One just stood and admired. We then headed east to connect with the car ferry in Manitowac, Wisconsin for the 4 hour ride to Ludington, Michigan. After a lovely crossing of Lake Michigan, we were then only 50 miles from Muskegon and the completion of our 6800 mile loop.
The Miata performed flawlessly, drew many admiring glances and gave me one of the most important gifts of my life; 27 days with my Mother even though I had to take care of her like a nurse. When I asked her what she liked best about the trip, she said, "Just being with you" . She died in May of 1999 at age 91. I cannot get in the Miata without thinking of her sitting next to me. May she rest in peace. Thank you Mazda.
---
---
---