---

The MX-5 Miata of the Month from


---
August 2001
Emily Powell
Congratulations to Emily Powell on the selection of her Miata as our August Miata of the Month!

---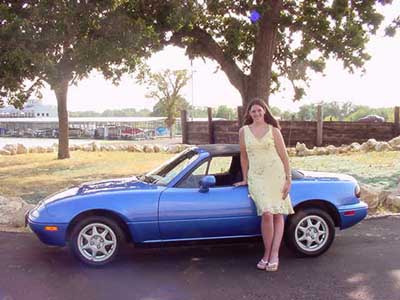 Well, I'm going try my best to make this more than just another "my first car" story. I guess I can get started by telling you about my self. I'm Emily Powell. I am 15 years old but will be 16 in 16 DAYS!!!! (and I can't wait). [editor's note: that's August 8, by the way] I live in a small town, Corsicana, Texas. (there's not much to it so if you haven't been here you're not missing much) but n/e way I'm going to be a sophomore at Corsicana High School this year and I guess I make pretty good grades - a's and b's.
So now to my cute Miata. I have always been fascinated by cars, especially cute ones. I have gone through many phases in what kind of car I wanted. I really wanted a big truck with/ really big tires at first but with the gas problems right now that wouldn't be too cool. I have recently been really interested in sports cars, the new fast ones. My dad has always had a passion for cars also. And his nephew was one of the first people to have a Miata when they first came out in Dallas. So, my dad was hooked on Miatas along time ago. When I first saw one I thought it was pretty cool, I was 10-11 years old when I saw it. It was a convertible and was red with a black top, so of course I thought it was cool, but I wasn't real impressed then, I guess because I was too young. but, I have always had a passion to want to drive, even since I was like a very young kid I remember sitting in my mom's lap and her letting me steer, it was the best thing in the world then. So, I have always hounded my parents to let me drive as soon I was 16. So, they put me in a driving school in May. I loved that too. But, my dad was finally starting to get serious about me driving and having my own car. He was calling people looking in magazines and I was absolutely thrilled. But, dad had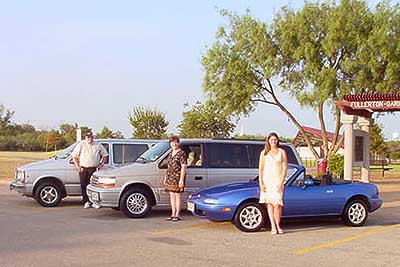 always talked about getting me a Miata. I wasn't real sure if that was what I wanted, but I said I would be happy as long as I got something. the more I looked at the Miatas the more I liked them. So dad said he was going go to see my aunt that lived a couple hours away, because she said that they had found a couple of ads in the paper about some Mazdas that were 4-sale. so dad went up there and told me that he was going stay the night a look at 3 cars. He told me that one was a really pretty blue 94' Miata, I immediately told him to try to get that one. so, the next day I went to school and then I went to driving school later on. and b-4 my mom dropped me off she told me not to get my hopes up about the car, and that if she was late getting me than my dad didn't get the car because she would have to go pick him up. so, I couldn't help it that was all I thought about and I DID end up getting my hopes up. So the end of class rolls around and I waited on my mom to get me. I waited, and waited, and waited. and I look out the window and........ there's the old van pulling up. I was crushed. but I said I wasn't going to let it show. I couldn't do that either. Mom knew I was upset. I got in the old van (I hated that van more than ever then) and shut the door, looked at mom and said "where's dad?". She didn't say n/e thing. She just pulled the van around the corner. I looked up and across the street was a BEAUTIFUL blue little Miata with/ my dad sitting in the drivers seat. I screamed!!! And cried, and then just said "oh my god" for 5 min. straight!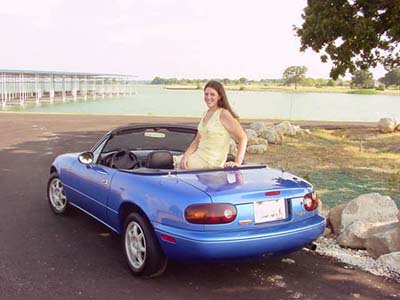 The first place I went was to my best friends house, but of course I couldn't go by my self my dad had to be with me. When I got there I found out that all my friends knew I was getting the car, my mom had told them. They had known for almost 2 days, and every one had ridden in it b-4 me too! I thought that was pretty funny, and they actually kept a secret, that was really hard for some of them. I was on top of the world, heck, I still am! Every one that sees it loves it! and there is absolutely nothing like it in town. So everyone will know me when they see going down the street. The first time I drove it I was hooked! It is a great car. it is fast, it has great gas mileage, very easy to handle, it really wasn't that expensive, it looks HOTT!, and best of all it gets allot of attention, everyone notices it. and the guys like it too! that's always a plus. I wouldn't have it n/e other way. this is the perfect first car experience! I am very lucky to have a dad that has such great taste, I couldn't ask for a better dad. he is the coolest. he drives the car more than I do actually!! He loves it just as much as I do. Having this car has been a real highlight in my life, and I am very happy. I would definitely recommend getting a Miata to n/e one thinking about getting one! it is a great car and you won't be sorry if you do end up getting it. mine is a 94' they only made this shade of blue 2 years so it is very rare. and I haven't ever seen one like it in person. the new ones look great too. so what ever you're into, the Miata is the way to go!
so, here is to the future of Miatas!! there is so much more fun to come!
thanx---- Emily
editor: Emily's father adds I hope the Miata will be a good experience for her and a lasting impression. My first car in 1971 at Corsicana High School was a 1964 Chevrolet Impala SS, 327, 250 HP, with a Muncie 4 spd. Ttans. It made a LASTING IMPRESSION on ME !!!!!!!!!!!! My 64, SS was the only one like it in town too !!!!!!
---
---
---