---

The MX-5 Miata of the Month from


---
September 2002
Petra van den Berge and Snakebite
Congratulations to Petra van den Berge on the selection of Snakebite as our September Miata of the Month!

---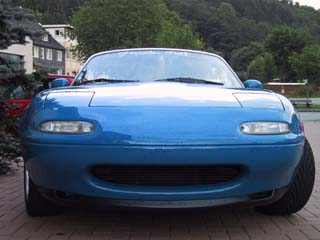 Hi all! My name is Snakebite, and I am so proud to be the Miata of the Month! And a Miata is what I am, really, even though I now live in a country where the cute little roadster that Mazda invented, are sold as MX-5s. But I haven't been living there all my life...
In November 1990, I was born in the factory of Hofu, Japan. I was surrounded by other little roadsters, most of them being Miatas, but there were also the European MX-5s and the Japanese Eunos Roadsters. There were small differences between us, the most important one being the color, though. I am born as a beautiful Mariner Blue Miata, and I am a happy girl as Mariner Blue happens to be my favorite color! It's a true classic color, I have met amazing voitures like the Bugattis which share this beautiful color with me. More on that later, though...
Life in the US
My first miles were actually not on the road, but on the ocean. My odometer doesn't count those seamiles, but it was quite a long journey from Japan to the United States of America. I ended up at a dealership in Washington, near Seattle, they advertised me as a 91 B Package Miata with Hardtop. And that's how I ended up at the Rice family in Bellevue. I shared the garage with a couple of other cars, but I was their favorite, I was their weekend, fun in the sun, topless car! They loved driving me around, and I loved cruising on those twisties, Mount Rainier, and around the beautiful lakes of Seattle. What a gorgeous environment.. Could this last forever?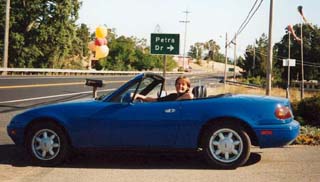 It didn't. After four years, I was "up for sale" as they called it. Apparently my owner was too tall, and even though he loved me, in the end he had problems not having a good overview because of my windshield frame. So, with "less than 10.000 miles, never seen rain" I ended up in the newspaper. And that's how I met my current owner. The first time I met her, I thought she had a funny accent, but that was when she was still trying to speak English. Now she's only talking Dutch to me, so this little Blue Japanese Miata girl had to quickly learn yet another language, in order to understand her new owner! I quickly found out her name, which is Petra van den Berge.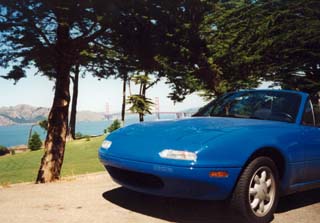 Petra took me out of Seattle, to the South, to Olympia, then she headed West to Highway 101, the Pacific Coast Highway. Out of Washington, through Oregon, then to California. Further than I had ever been! California is fun. It is just plain fun, especially for a Miata. Petra and I were good friends already from the first day on, but day by day we appreciated each other even more and more. We also met a lot of other Miatas, Petra seemed to know a couple of the drivers through Miata.net, and I was having a good time hearing the stories from the other Miatas about living and driving in Sunny California. The mountain highways just south of San Francisco are wonderful, as is Mount Hamilton, Yosemite Park, Napa Valley, and Highway 1 to Los Angeles (which is pretty much like Highway 101 in Oregon and Washington). It is there that I got my name, Snakebite, as I was having so much fun on those rattlesnake curves! Three weeks and 3500 miles later I was brought to the harbor at Longbeach. Again I was going to get many seamiles, more even than I got before!We first headed south, then through the Panama Canal we went to the Atlantic Ocean, for the biggest part of the trip to Europe. I couldn't see much of the journey as the container had no windows, but I was in good company with an Austin Healey Frogeye, and two Volvo's P1800's.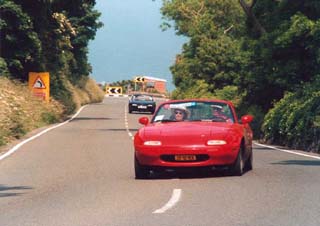 Life in the The Netherlands
Four dark, containerized weeks later I was collected by Petra, I was now in The Netherlands! First thing was to get street legal, I needed to be modified slightly, and had to trade my white and blue Washington plates for small yellow Dutch plates. Most Miatas I met, were actually not Miatas, but... MX-5's! So here is where my European sisters in the factory went to! Petra attended a lot of club meetings, which helped me learning the Dutch language. It turned out that Petra's boyfriend Robin has a Classic Red Miata, she came to The Netherlands three years before I did (she was from the US East Coast) so she helped me through all the adaptation questions I had.
It is different being in The Netherlands, but it is fun nevertheless. There are Miata roads everywhere! It's a flat country, the twisties can be found on the many dykes that the country has. The cities are very pretty too, very ancient often, I can tell there's a lot of history there. And then the windmills... I just didn't know what funny things those were!
Snakebite's got a lot to say. Learn about her trips and stablemates next month! - Ed.
---
---
---