---

The MX-5 Miata of the Month from
---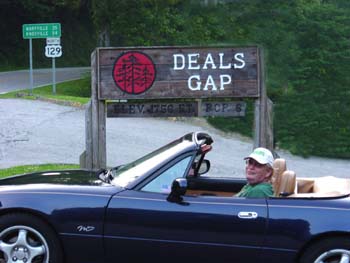 November 2004
Henry Lyon (aka Fuzzy)
Congratulations to Henry on the selection of Blu Loo as the November Miata of the Month!
---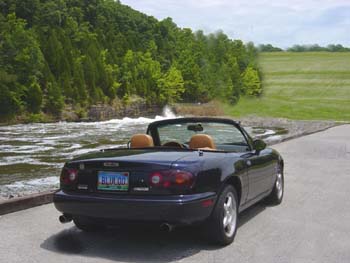 Some might call it a mid-life crisis, but for me it was a lifelong dream: to have my own first-class sports car.
Being of sound mind (depending on whom you ask), my quest for a sports car finally came to fruition this past January. My good friend John, a certified sports car fanatic with great knowledge of such, found the perfect car for my needs. Not too expensive, but a true and pure-built sports car, a bundle of sheer delight and white-knuckle enjoyment. We spent a lot of time searching for just the right one, using eBay, Auto Trader, area papers and Miata.net. Finally, we found what appeared to be the one! A 1996 M Edition on eBay that looked brand-spanking new. I put in my bid and, after a very long wait, I won the auction.
My Miata was sitting in St. Petersburg, Florida, waiting for me to come and get her. Now the question was how to get there. I considered flying or taking the train, but John suggested I drive to North Carolina, and he would drive me to Florida in his '97 M Edition. Perfect excuse for a road trip, right?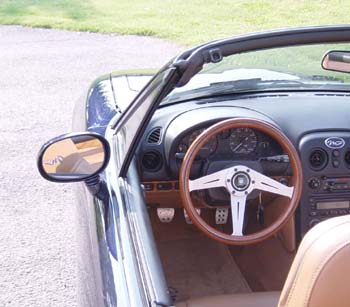 Footnote: I had only ridden in a Miata once before, and that was with John on the Elkhart Lake racetrack at about 90-100 mph in one he'd borrowed from a friend. I didn't get to drive it then, because rain began to fall and the track session was stopped. It was like riding in a slot car (telling my age here), and the car seemed so happy in the curves; no roll or sway, just hauling butt to the next turn. It was a very sweet ride. Also, for the first time (after many miles together over the years), John hadn't scared me to death with his hell-bent-for-leather driving style. Note: I'm not sure if it was the Miata or the fact that John is getting much older.
Back to the story: Down to Florida we started in John's Miata (after learning a lot about a Miata's trunk capacity, or lack there of) on a cold but beautiful January day. After about two hours in the passenger seat, it was finally my turn behind the wheel. This was what I'd been waiting for. I would get to feel a Miata under my feet! It surpassed even my high expectations. What a car! Tight steering, instant response, the best little gearshift I ever used, and that sweet sound burbling over my shoulder.
It wasn't long before we decided that we should have the top down, despite the brisk weather. So down came the top, and out came the sweaters, gloves, scarves and hats. I'm sure people thought we were nuts, but I'd just bought a sports car sight unseen, so this seemed brilliant by comparison.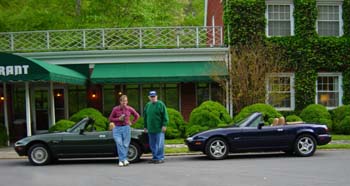 The ride down was great, except I kept going over and over in my mind what might be wrong with the car I'd just bought. You name it, and I worried about it. What I was sure of, though, was that if everything worked out well, I was going to love my new car.
We arrived in St. Pete late, and I would have one more sleepless night to wait. Morning finally came, and off we sped to pick up my car. We pulled into a big office building complex, and there it sat. I thought, "That can't be my Miata." It looked almost brand-new. Nick, my broker at Florida Auto Harbour, had done good; the car was near showroom condition. An ear-to-ear grin broke out on my face; this was much more than I had expected from a seven-year-old car. I took it for a test run around the block, and it was so tight and so sweet. I couldn't have been more pleased.
I decided to name her "Blu Loo." Blue for the Starlight Mica paint she wore, and "Loo" in memory of Loosey my beloved springer/lab I had lost the previous year.
Then off we went, '96 and '97 M Editions turned loose in Florida. We chased each other around mid-Florida for a couple of days, before heading over to enjoy the 24 Hours of Daytona. If you have never been to an endurance race, I highly recommend it. The Daytona 24 is one of the best. The race was great, and after the finish it was time to head home. John and I went our separate ways in Northern Florida.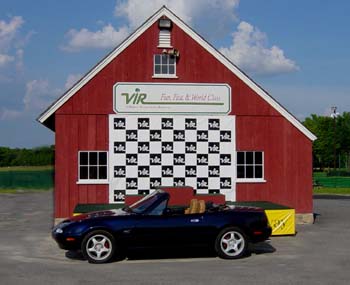 I'd heard about Deal's Gap and the "Tail of the Dragon," so I decided to check it out on my way back to Kentucky. I drove to just outside of Robbinsville, NC, and stopped for the night. Got up early the next morning, went outside put the top down of course and jumped into Loo with a map, a cup of hot coffee and a big smile. What a way to introduce myself to the Tail of the Dragon and my "brand-new" Miata!
After my first 11-mile, 318-turn run, I was speechless. It was unbelievable; I never got out of third gear. Here's some good advice: if you have any kind of performance car, sell your stocks and bonds, house, or kids, but do whatever you have to do to run the Tail of the Dragon. I grew up in southern West Virginia, where there are many hairy roads, but nothing compares to this! This is the mother of all roads.
I ran the Gap, emerged unscathed, and promised myself to get back there at least two or three times a year. I finished the drive home with visions of Miatas dancing on the Dragon's back. It was one incredible, mind-boggling week.
---
---
---