I've collected cars all my life and raced at the Bonneville Salt Flats in western Utah for decades. Diane, my wife of 37 years, was always ultra-supportive but never a fan... that is, until she made her first trip to the Flats in 2004 to watch me drive a friend's record car. To the surprise of all who know her, Diane was immediately hooked, and big time!  She wanted to race and since she'd liked the '99 Miata Sport we'd had for a while in the late '90s she decided on a Miata.  Hence, this is her 1990 MegaMonster we bought from a Miata.net member in the fall of '04.  I drove it home to north Louisiana from Boulder, CO over a weekend, getting 20mpg at 75-80 mph.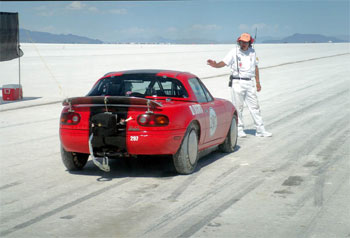 We played with the car on the street for a year awaiting our race buddy getting it into his shop to covert to race car.  In August of '06 it made its maiden trip to Bonneville with all required safety equipment, but still with only the smog-legal, street motor (Ford 302, Kenne Bell supercharged, etc.) to be sure it would go straight and warrant splashing out for an 1100 hp race engine later.   
I made the first pass with the car to ascertain the aero and suspension settings were okay and did 184 mph on the short course (three miles). Diane then made a few licensure passes, managing a top speed of 169 mph on only her second time to drive at over 100 mph in her life.  So, the car warrants further development and next time Diane intends to go fast!    
Finally, thanks to the Miata.net members who came by at Bonneville to say hello; we appreciate it.