---

The MX-5 Miata of the Month from
---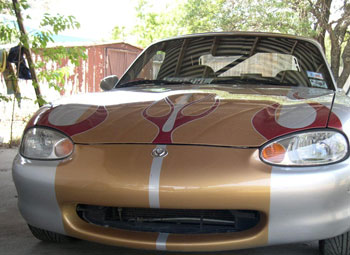 October 2006
Billy Blaze
Congratulations to Billy on the selection of his 1999 Miata as the October Miata of the Month!
---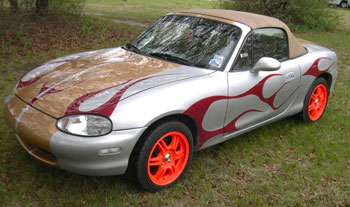 I'm Billy Blaze, a musician, singer, songwriter and Miata lover. I drove motorcycles 'til I was in my early 20s and then started driving the big V8s. I have always liked the styling of the 1st and 2nd generation Miatas, so i bought one in 2005.
After driving a motorcycle so long I can attest that my 99 model is just as agile as a motorcycle, that's what first started my quest to make the car better, faster. My car is a salvage title car (one of the many reasons my local club doesn't care for the car) but it's my baby and I only need to please myself.
After getting an exhaust, sways, springs, shocks, motor mounts, intake, rollbar, strut tower brace, double core radiator, power plant frame brace, and a new motor the car runs great! Now I plan on putting a MP62 with TDR intercooler and gauges to get the 225rwhp I have been so desperately craving.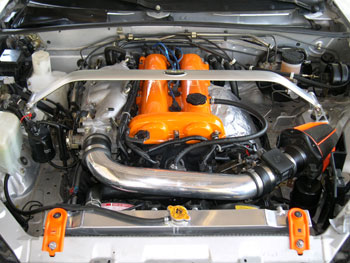 My car looks a little strange to the Miata crowd but others tend to like it after the shock wears off. I know I will never sell my car, for many reasons...but will likely buy another in the future. I make excuses to drive my car anytime I can, whether it be down the street, to check the mail, or to an autocross event. Top down all the time.
Working on these cars is fairly easy, fun and rewarding. My Miata had some pretty serious competition - including a 1979 model 400ci Firebird, a 1980 model 455ci Firebird, 96 Mustang GT 4.6, and a random Jeep Wrangler 4.0 01 model - in becoming my favorite vehicle ever. Still it remains the most fun of all of them put together.
Billy Blaze
Weatherford,Texas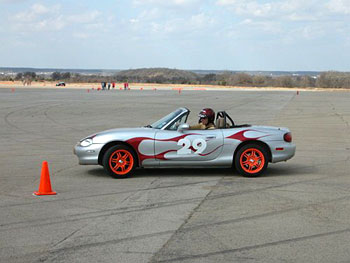 ---
---
---