---

The Eunos Roadster of the Month from
---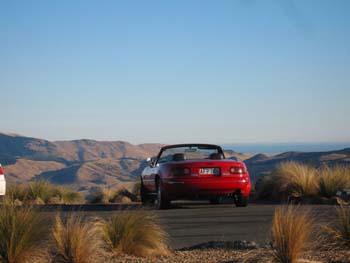 March 2008
David McNett
nugget@macnugget.org
More photos of the trip
Congratulations to David on the selection of his rented Eunos Roadster as the March Roadster of the Month!
---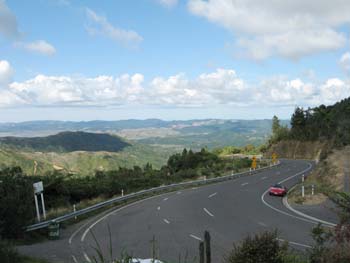 In the 13 years that I've been driving Miatas I think I may have lost touch with what makes these cars so great.  We've had three Miatas in the family now -- two 94 M editions, and most recently a 2006 NC.  One of the 94s was track-prepped with a supercharger and all sorts of go-fast doodads.
When my girlfriend, Monica, and I were invited to a friend's wedding in Christchurch, New Zealand we decided to make a driving vacation out of the trip.  I'd always heard that the roads in New Zealand were amazing so I found a place that would "hire" us a Miata.  It was to be a silver, manual, NB car.  You can imagine our dismay when a few days before our trip I got an email from the rental company that another customer had crashed our silver rental and it would not be available for us.  His only other option was a first-year, automatic (gasp) that was "in pretty bad shape."  With insufficient time to make other plans we begrudgingly accepted the replacement.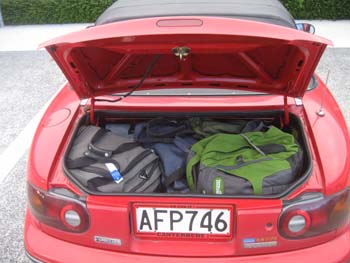 Technically speaking, our Miata of the Month isn't even a Miata at all -- it turned out to be a red, 1990 Eunos Roadster imported to New Zealand from Japan.  250,000 kilometers on the dial, a "small" engine, a creaky top, wrong-side drive, and more than a few dents and scratches.  This was one car that got rode hard and put up wet! Despite all the cars shortcomings, those two weeks were some of the best, most rewarding driving I've ever done.  We crammed all of our clothes and supplies in the "boot", made scary right turns across traffic, and drove all over the country.  That nimble little Eunos was a trooper.  Even after an obviously long life of abuse it still handled great and provided all the steering feel and feedback anyone could want.  It carved up corners and zipped over hills and we had an absolute blast driving it.
Everywhere that we went people grinned and waved.  Our enthusiasm and enjoyment was infectious and having the top down made us approachable.  There's nothing like a little, red convertible to bring out the best in folks.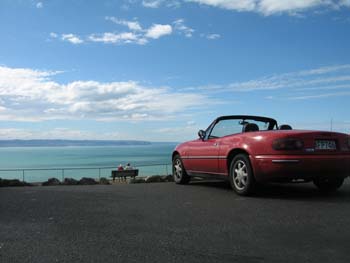 There's no way either of us should have appreciated that little Eunos.  Compared to our newer cars it had no power, a slushbox transmission, worn out shocks, and a plastic rear window. It had none of the amenities and performance we've grown accustomed to in our more modern cars.  By any measure it was the worst Miata either of us have ever driven.  But you know what?  It worked.  This was, quite literally, the car that Bob Hall designed and he sure did get it right.  So thanks, Bob, and thanks, Mazda -- I needed to be reminded why we all love Miatas so much.  "Everything you want in a sports car and nothing you don't."
We put thousands of kilometers on that little Eunos (including a ferry ride between islands) and I'll be darned if we didn't miss it when we left.  I got home realizing that it's not about alloy wheels, or cupholders, or iPod hookups, or tweaking 20 more horsepower out of the engine, or adjustable shocks -- it's about the essence of a thing and the spirit that's embodied in a car like the Miata.  The next time you're at your local Mazda dealership remember that it's not about "Grand Touring."  It's about two seats and little weight and a responsive engine.  It's about a car you wear more than you drive.  Maybe when it comes time to trade in my current German car I'll remember that less can be more.  Keep the revs up.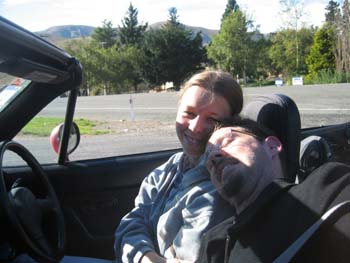 ---
---
---