---
Build-to-order Miatas - sort of
By Bob Hall
04 July, 2001
Mazda has opened a website in Japan to offer Mazda Roadsters (Japan's version of the Miata) on a build-to-order basis. The heavily Java-intensive website said to be the result of cooperation with Yahoo! Japan, and offers the as-you-like them versions of the World's Favorite Sports Car to Japanese residents only.
Called Web Tune Factory, the site is a toe in the water, offering up Mazda Roadsters in virtually any available combination of powertrain and with a wide selection of options. The site has a similar program for the Mazda Familia S-Wagon, a 1.5 litre variant of the Mazda 323 or Protegé seen in export markets. Either car ordered through the system carries a 'Web Tune' badge on the front fender, just above the side repeater flasher. The Roadster also fits a Sony Xplod CD or Mini-Disc audio system not otherwise available as a factory fit item. If you live in Japan and get your order in before June 16, Sunburst Yellow is available through the Web Tune online ordering system. The recently announced BRG limited edition solid (not metallic green) is not offered as a Web Tune color, however.

Since the build-to-order option is available only to residents of Japan, the site is totally in Japanese. As a result, many browsers will display 'garbage' characters in the site will load in a browser and with an operating system not equipped to display the four-bit characters used for many non-roman websites.
Still, it's interesting to poke around and see what's offered in Japan which never 'escapes' to the rest of the world. Like a red and black cloth interior (which via the Web-Tune system could theoretically be ordered in a Metallic Green car - UGH!) as well as a selection dealer accessories which include a number of body kit pieces unknown outside Japan as well as a factory grille insert.
Mazda Japan has indicated that while the Web-Tune site may be expanded to other Mazda models, it currently has no plans to expand the build-to-order system to other countries.
If you're feeling adventurous and have a crash-resistant, Java-savvy browser (does one exist?), you can explore the site at;
We warn you, disappointment is likely to be a side-effect from a visit.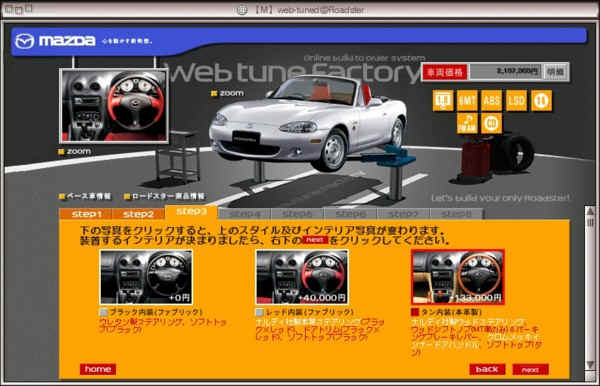 ---
---