---
Mazda unveils new 2.3 litre engine possibly destined for the Miata
by Bob Hall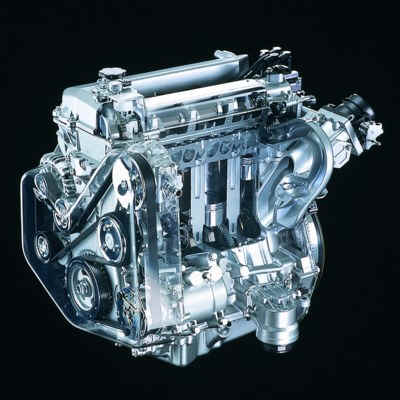 At October's 35th Tokyo Motor Show, Mazda unveiled the all-new 2.3 litre twin-cam four cylinder engine which may power the next generation Miata. the new engine was displayed in its front-drive form as it will power the new Mazda 6/Mazda Atenza sedan range which replaces the current 626s.
The new engine is of all aluminum construction and features standard variable valve timing using the Mazda S-VT system and has a mechanical system in its variable length intake tract..
In common with the current BP engine used in the Miata, the new power unit retains a four-valve-per cylinder head layout, though the timing belt has been replaced by a silent chain. The engine will be produced in 2.0 and 2.3 litre forms for the Miata (it's believed that North America and Australia will only get the 2.3, though in some markets only the 2.0 will be used with a few getting both displacements), with the primary mechanical difference between the two the addition of a dynamic mass balancer in the sump, gear driven by the crankshaft and running at twice crankshaft speed to eliminate secondary vibration.
The intake system uses a plenum chamber designed to maximize intake charge tumble to improve efficiency and with variable tract lengths to provide good low speed torque without compromising performance farther up the rev range.
The accompanying data is for the engine in Japanese domestic form as installed in the front-drive Mazda Atenza, so outputs are likely to differ in the longitudinal application of the Miata and with US emissions. Mazda has not officially commented on the timing of the next-generation Miata or the rumored availability of the 2.3 in any upcoming model.
Displacement 2,261cc Bore x stroke 87.5mm x 94.0mm Maximum output (target figure) 178hp/131kW at 6,500rpm Maximum torque (target figure) 159lb-ft/215Nm at 4,000rpm
Bob Hall
---
---