---
Mazda Introduces 'Factory Racer' to the Japanese Market
by Bob Hall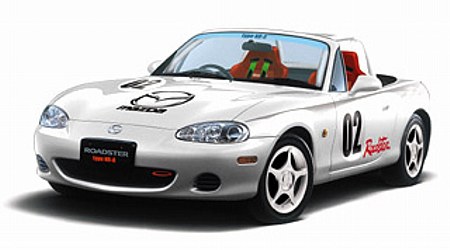 Mazda Motor Corporation has unveiled a variant of the Mazda Roadster (Japan's version of the Miata) developed specifically as a street-legal car which can be entered in one-make races against other of its own kind under the auspices of the JAF, Japan's equivalent of the SCCA. The race series for this new model will begin in May, 2002.
Named 'NR-A' for the class it competes in, the car is based on the Japanese domestic 125hp, 1.6 litre five-speed Mazda Roadster with upgraded chassis and brakes to deal with the rigors of occasional competition driving. The new model is expected to go on sale late this year with a price in the vicinity of 2,000,000 Yen (roughly US$16,550 at the time this is being written).
Modifications include an increased capacity radiator, Torsen limited slip differential, engine and differential mount enforcement, Bilstein shocks, front strut bar, larger diameter front anti-roll bar, increased diameter front and rear brake rotors with 15-inch wheels and 195/50 15 tires. Interior trim is black with red cloth seats and accents, and a Nardi leather-wrapped steering wheel is fitted as standard.
The sole unique option is Mazdaspeed's NR-A pack which includes a six-point roll cage with four-point driver's harness and larger (!?!?!?) front and rear tie-down/tow hooks (all of which are required under JAF rules for entry to the class) and a Mazdaspeed thinshell racing seat for driver and/or passenger.
Before you head over to the bank, savings and loan or credit union to buy one of these factory weekend warriors, be forewarned that there are no plants to export the NR-A or the race series.
Bob Hall
---
---