Product of the Month - July, 1996

---
Kaleva Button Bumps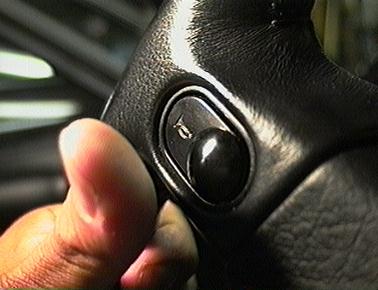 Now that the Miata is 7 years old (!), finding a new, innovative accessory has become a rare event. Occasionally, someone comes up with something truly unique and useful. The Kaleva Button Bumps fall into that category.
The Button Bumps are a pair of tiny domes that adhere to the horn buttons on the Miata steering wheel. The stock wheel, as you know, has a little indentation for the horn. The bumps fit around the outside of the indents and make the horn buttons stick up about 1/8" from the surface. Instead of fumbling around trying to find the indents, your hand automatically feels the bumps making it much quicker to sound the horn in an emergency.
The Kaleva Button bumps are so simple, its unbelieveable no one has thought of this before. They take all of 10 seconds to install. All you do is clean the horn buttons with a bit of alcohol and peel off the backs and stick them on. They come in Black Delrin, which matches the factory finish and looks like it belongs there. They also come in polished aluminum for a nice match with items like the Voodoo Shift Knob.And they're cheap! The Button Bumps are $10 in Black Delrin, $14 in polished aluminum. They're distributed by The Dealer Alternative.
---
Copyright © 1996, Eunos Communications