Product of the Month - August, 1996

---
Flyin' Miata Strut Brace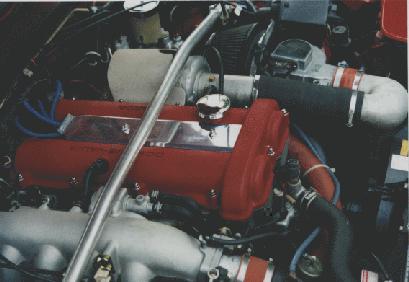 The Miata suspension is a fine work of engineering designed to provide tight cornering with minimal body roll. For the most part that goal is achieved. But there's always a bit of room for improvement. For example, there seems to be a chassis resonance that surfaces at about 65 miles per hour. And due to the fact that its an open top roadster, the body flex is quite evident to the high performance driver.
Enter the Flyin' Miata Strut Brace. Thanks to the luck of the draw, my wife's name was pulled from the bin at Miata '96 in Toronto. When she went up to claim her prize, it turned out to be the Strut Brace! (It was a fair drawing - ask anyone who was there!) Anyway, since we have only one Miata between us, and since she didn't think fast enough to try to swap it for a Nieman-Marcus gift certificate, it quickly became the next scheduled accessory.
Upon returning home from Toronto, I decided to install the new Brace. I hit an immediate snag when I realized that I would need a new hood prop due to the Jackson Racing Cold Air Induction kit which was already installed on my car. The JRCAI air box installation forces relocation of the hood prop. The new location interferes with the Strut brace. A quick call to Bill at the Dealer Alternative to order the $15 hood prop kit was required.
The following week the hood prop showed up so it was time again to install the Brace. This is one of the simplest suspension modifications imaginable! There are two bolts at the top of each shock absorber tower in the engine compartment. After they're removed, the Brace slips over the tower onto the exposed studs. The Brace has an adjustment for minor variations in the vehicle manufacturing, so it was a simple fit. I had to loosen the bracket holding the diagnostics connector to rotate it out of the way, but that presented no problem. About 20 minutes was needed including the new hood prop.
On to the road test! I really didn't think the Brace would make a very noticable improvement in the handling. I was wrong! Cornering is much tighter and the body flex is reduced. Hitting bumps in the road felt much different as well. The ride was a bit bumpier, but a good kind of bumpy. The kind when you know the tires are in the right position on the road.
If you like a spirited drive and want a bit more response from your suspension, the Strut Brace is a very cost effective way to help get that response. The Strut Brace is sold exclusively by The Dealer Alternative and retails for $129.
---
Copyright © 1996, Eunos Communications