Miata.net Award Winner
---
MOMO Champion Steering Wheel
& Finish Line Hub
WARNING: This product is designed for MX-5 Miata cars which do not contain an airbag! It is therefore not to be used on Miatas available in the United States.
---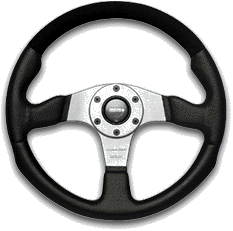 OK - now that we've gotten that out of the way, you're probably only still reading this because you have an MX-5 in Canada or Europe or one of those other places that don't mandate explosives 14 inches from your face.
The factory steering wheel is adequate. Its probably as good as most vehicles on the road and there is really no reason to even consider replacing it.
Unless you want a really jazzed up interior coupled with an ergonomic feel that will make it difficult to do without it. You'll even wish you had a wheel like this on your family sedan!
The MOMO Champion feels, well, it just feels right, to borrow a familiar slogan. First, its a tad smaller (by about 10mm) than the stock wheel. This gives a slightly different feel to cornering - a bit snappier. Next is the leather. The Champion is designed with three different leathers. On top is a suede. This feels nice, but in truth, you won't be touching it too often. (We'll get to that in a minute.) The bottom is a smooth leather - similar to the stock leather wheel, but softer. The sides are finished in a perforated leather - presumably to give better grip with or without driving gloves. The entire wheel is well padded - giving it a firm, but comfortable feel.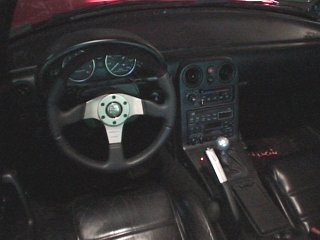 But the most satisfying part of driving with the Champion is the grip design. See those little protrusions that stick out on the inside of the wheel? When driving, your hands seem to automatically gravitate to one of two natural and "correct" driving positions. The wheel feels ideal with the hands at 10 o'clock and 2 o'clock as well as at 3 and 9. Any other position is discouraged by the design of the wheel. This actually helps force the driver into good driving position.
Installation is a snap if you use the hub adapter from

Finish Line Performance. This hub simply fits in place on the steering wheel spline and the Momo bolts onto the hub. You no longer have to make any permanent modifications to your Miata and the overall installation is fully reversible. Included with the hub is a mating connector to the one on your car with a horn wire and a resistor attached so your airbag warning light doesn't flash. The Finish Line Hub adapter also has a nice, factory look to it. This is the best hub adapter we've seen for a Momo wheel on a Miata.
The choice of the Champion is mostly aesthetic. MOMO makes many different models that have a similar feel due to the design. You can see them on the MOMO web site. They have leather wheels in various color schemes as well as wood wheels and wood/leather combinations. Whatever your taste in appearance, moving to a MOMO steering wheel will dramatically change the entire look and feel of your Miata!
Availability:
| | Suggested Retail Price |
| --- | --- |
| MOMO Champion | About $250 |
| Finish Line Hub Adapter | About $125 |
---
Copyright © 2001, Eunos Communications LLC